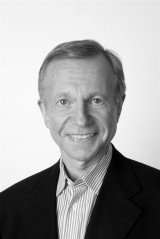 Rick Kash
Founder and Chairman
Rick Kash is the founder and Chairman of The Cambridge Group. He is the author of the book, "THE NEW LAW OF DEMAND AND SUPPLY: The Revolutionary New Demand Strategy for Faster Growth and Higher Profits" (Currency/ Doubleday; September 2002).
In addition to The Cambridge Group, he co-founded Spectra Marketing Systems, a micro-marketing supermarket and mass merchandiser information system used by more than 90% of packaged goods and beverage marketers.
Rick serves on several community and business boards and speaks frequently to business groups on the subject of business growth. Rick is a member of the United States Senate Business Forum, a group of 36 businesspeople selected by U.S. Senators. The group meets with senators and cabinet members on a quarterly basis to provide independent views on national matters affecting the economy and U.S. business performance.
Rick Kash is a graduate of DePaul University.
Responsive Webdesign
0

%